---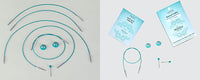 Knitters Pride 360 Swivel Smart Cords
Knitters Pride 360° Swivel Smart Cords are so named because they do so many things at once and they do them all so well!
These cords are equipped with a swivel mechanism inside the connector. This allows the cords to swivel completely around which helps to further prevent twisted cords. Combined with the nylon coated stainless steel cords, this ensures that they are memory free and shouldn't twist.
NOTE: 16" and 20" cords only work with the shorter Special Interchangeable Dreamz or Zings Tips. 
The cords are coated in silky smooth nylon and made from the finest materials to be strong, durable, and flexible. The tranquil teal hue beautifully complements the rest of The Mindful Collection. 
The swivel cords are marked at 1" intervals so that measurements can be conveniently done on the spot. The cord lengths include tips in their measurement.
The teal wooden end caps are emblazoned with the soothing floral print, signature to The Mindful Collection. They are a delight to use and the cord keys used for tightening the tips to the cords come with a colour coordinated teal wooden top.